Mistcoater Liquid Coating System
The Mistcoater Advantage
The Mistcoater uses spinning disks instead of spray nozzles for applying liquids to dry solids in a continuous flow process. The unit prevents clogging with liquids that have suspended solids such as slurries and solutions with a high percentage of sugar or salt.
We offer three Mistcoater models: The "T" model, which includes a coating chamber with discharge chute; the "TMX" model, which uses a coating chamber with twin screw ribbon and paddle mixing conveyor; and the "SST" model, which includes stainless steel contact surfaces and food grade components for improved sanitation.
Advantages of the Mistcoater:
There are no spray nozzles that can clog
Multiple liquids can be applied from a single inlet point
Liquid pumps require less head pressure due to the lack of liquid inlet restriction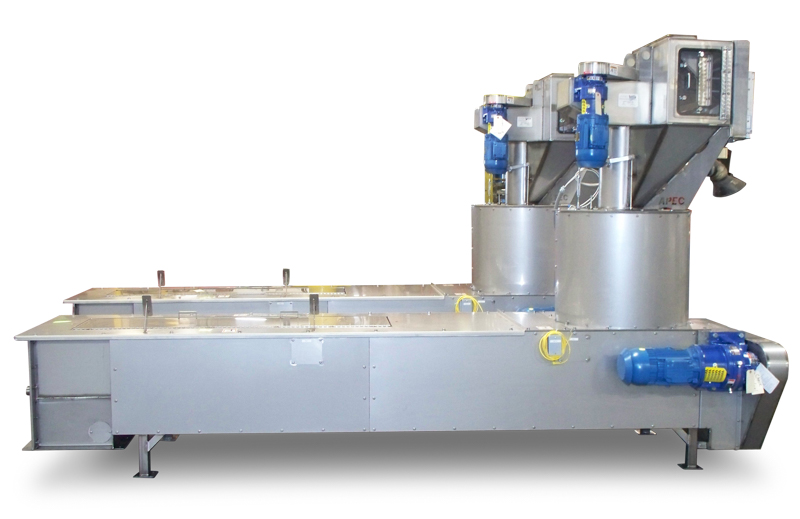 Mistcoater Liquid Coating System Product Details
Units Sizes & Capabilities
5 Ton – 250 ft3 (7 m3) per hour
20 Ton – 1,000 ft3 (28 m3) per hour
40 Ton – 2,000 ft3 (56 m3) per hour
70 Ton – 3,500 ft3 (100 m3) per hour
120 Ton – 6,000 ft3 (170 m3) per hour
Standard Features
Flanged inlet and outlet openings
Dry disk drive with timing belt/sprocket reduction
Coating chamber with scraper
Single access door
Stainless steel liquid disk(s) with v-belt drive and support legs
Optional Features
CEMA IV or Food Grade Finish
Heat tracing
Keep full level sensor
Close tolerance construction
Mixing conveyor extensions
The Mistcoater Process
The product to be coated enters into the machine and falls onto a rotating "dry disk". The material falls off the dry disk in a cascading helical pattern. Simultaneously, the liquid is pumped onto spinning disks located in the center of the cascading product. This liquid is atomized and applied to the falling dry material. Internal scrapers prevent product build up on the walls of the coating chamber.
Industry: Pet Food Manufacturing
Problem: To​ ​apply​ ​both​ ​fat​ ​and​ ​flavors​ ​to​ ​their​ ​pet​ ​food,​ ​our​ ​pet​ ​food​ ​client​ ​had​ ​been​ ​using​ ​a​ ​traditional tumble​ ​drum​ ​coater​ ​for​ ​many​ ​years.​ The tumble drum coater caused high labor costs and down time on the line, because of the following issues:
Suspended solids caused clogged spray nozzles and poor uniformity of coatings
Excessive backpressure resulted in premature failure of the pumps and valves
Atomized liquid from open ends created a slipping hazard and the need for constant cleaning
The lack of access and excessive length meant a person had to enter drum for cleaning
What APEC provided: We worked with the customer to utilize the APEC Mistcoater within their available footprint. The Mistcoater Liquid Coating System is totally enclosed and uses spinning disks, instead of spray nozzles, to apply liquid to kibble. It is designed with full length access doors for easy access to all areas of the machine for cleaning.
How we solved their issue: Down time required for cleaning the surrounding area was virtually eliminated, as well as the safety hazard. The product coating uniformity was greatly improved, since the fat and flavorings were atomized properly due to the Miscoater's spinning disks. The customer has since replaced all of their tumble drum coaters with APEC Mistcoaters and utilized Mistcoaters in their new facility.
Request Mistcoater Information
Do you have a question about the Mistcoater models, sizes, or capabilities? Fill out the form below
and we will respond to your inquiry promptly to provide more information.